News
Safety Decking
The last 6 months has been one of our strongest
In business for over 20 years and supplying industry leading safety decking since 2011, G&M are pleased to be going from strength to strength in 2023. Despite forecasts earlier in the year of a slump in house building (House building set to slump in England, warns trade body) we have been busier than ever this year.
Recently we saw 600m2 of safety Decking go out of the door on hire for 6 months to new sites in Shropshire and Stoke on Trent.
More and more of our G&M Hatch system is flooding out onto construction sites across the UK – helping to make the construction industry safer, one project at a time.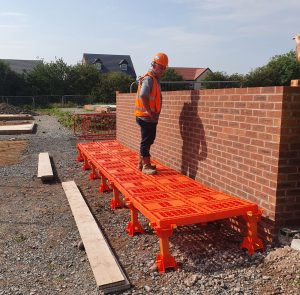 Innovators in Construction Site Safety & Efficiency
We are still finding time to continue to be innovators. G&M are always looking for ways to improve construction site safety and efficiency when working at heights – even when those heights are not very high. Following successful trials of our low level decking system earlier in 2023 Redrow Homes have now invested in this System.
Customer Service at its Best
We know that the key to our success is looking after our customers and customer service is at the heart of what we do. Last month we were also pleased to help a customer who was let down at short notice. G&M stepped in to provide decking for 4 sites to start in Halewood, Prescot, Widnes and St Helens, with over 700 hundred houses in total. The safety decking for this project was all sorted for the customer within 2 hours!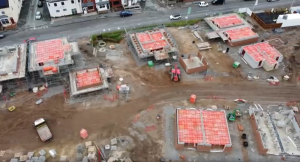 Aerial views of G&M Safety Decking in action at Wincham Brook in Northwich (July 2023).
At G&M we specialise in the design, supply, installation and testing of a wide range of fall arrest products and systems in line with current legislation to ensure site personnel are safe when working at height. We also offer a comprehensive training programme to ensure site personnel are competent when working at height.
Whatever your working at height requirements don't hesitate to get in touch!