New Products
News
Branded Decking
Customer logo – Cavanna homes
As one of the first productions runs using the new logo plates made specially for our customers. New customer Cavanna Homes are sporting their own logo on the G&M Safe Deck panel. It gives us great pleasure to see how well customer logos have come out.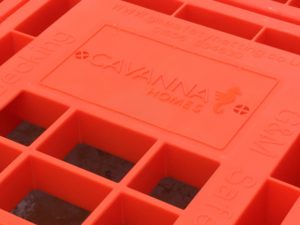 Why have your own Logo on the Safe Deck Panel?
We have introduced this service to enable customers to have their own branding on equipment that has been purchased. Consequently identifying the kit as their own.
As a result this increases security, making it difficult for unscrupulous persons to steal and use the panels as they are easily identifiable through this unique branding.
How does it work?
The customer logo is first created on a steel plate. When the moulding process is complete the logo is part of the panel and cannot be removed. As a result, detailed images can be reproduced with clarity.
Whilst our own branding is still in place, the intention was for customer branding to take centre stage, which we believe it does. 
The logos themselves also form part of the anti-slip surface of the G&M Safe deck panel. 
This service is available to all customers who purchase 500m2 of the G&M Safe Deck System. Customers can choose whether to have their logo on 2 or 4 plates on the Safe Deck panel.
The G&M Safe Deck System is available for hire and sale. For a Quote, hire or sales or a quote please contact us.
Alternatively call; 01606 834630 or email to office@gmsafedeck.co.uk