New Products
News
Stillage
We are excited to be launching a new product in the G&M Safe Deck range of products – G&M Safe deck storage
G&M Safe Deck Stillages are now available for hire, sale or as part of a purchase of the G&M Safe Deck System. We have 2 different stillages available. We have designed a stillage that can accept 26 panels stored in 2 stacks of 13 panels side by side. Consequently, your operatives can store the panels safely without having to reach up to stack panels 25 high on a pallet as previously. The other is designed to accept 56 built legs. They are also designed to be stacked together.
Why stillages?
Storage and handling of bulk amounts of equipment has long been an issue. This is due to the need to palletise and secure the equipment safely for transport and lifting. Plant machinery such as forklifts, both standard and telescopic cannot move unsecured loads. Subsequently, your operatives spend time on loading pallets, banding or strapping the loads so they remain stable. As a result, cost in time and materials can be significant.
G&M Safe Deck Stillages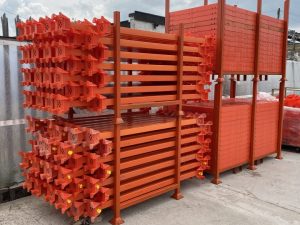 As you can see the stillages enable the safe loading and unloading of the Safe Deck components for transport and lifting by mechanical lifting aids. Ideally sized to enable their placement onto loading bays in the house build setting.
The stillages are handmade in the UK and are a steel welded construction that will serve you for many years of moving, handling and storing the G&M Safe Deck System.
For more information or to purchase Stillages. contact us