News
Safety Decking
Safe Deck Benefits – What are they?
G&M Safe Deck has various benefits over other similar crash deck systems. One of which is the ability to cut down the Safe Deck panel into smaller sizes. Consequently this cuts down on waste.  Enabling the owner to recycle damaged panels rather than discarding them. Another benefit is the ability to pass scaffold tubes through the panel. Therefore reducing the need for alterations during use. Thereby reducing cost along with the risk arising from voids where the decking and scaffolding interface.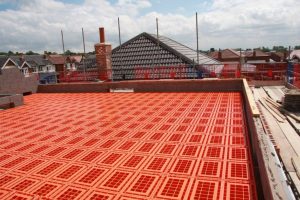 As seen in the image. Where the scaffolding is installed there is no void. With other crash deck systems there would be a void. There would also be the need to edge protect the void to prevent persons from falling into it. Sadly on most sites this does not happen.
The G&M Safe Deck system has increased the overall safety of operatives who work to install floors or trusses in the house building industry. Consequently the risk of falls from height are drastically reduced where Safe Deck is in use.
Safe Deck benefits – Why? bean bags are cheaper
Whilst it is true that bean bags are a far cheaper option. That doesn't necessarily mean they are the best option. This is because bean bags allow the fall to occur. Consequently bean bags sit as low down the hierarchy of control measures as you can get. The HSE will always expect any contractor to PREVENT the fall wherever possible. Therefore using a decking system that eliminates the chances of a fall occurring throughout a working area is the way to go. G&M Safe Deck is such a system. As seen in the image above there is no void through which a person could fall. Consequently the work at height regulations are satisfied.
For more information, a quote, hire or a sales call. Contact us.