New Products
News
Safety Decking
Why a half size panel when the standard full size panel can be cut?
Yes it is true that the full size panel can be cut in half, thirds ,2 thirds  or sixths. This is a result of the fact the Safe Deck panel is designed to be cut down without loss of rigidity or strength. Consequently the panel can be re-used even if it is damaged. Thereby cutting down on waste and loss. The half panel is intended as an addition to the G&M Safe Deck range of products. Further increasing the flexibility of the G&M Safe Deck System.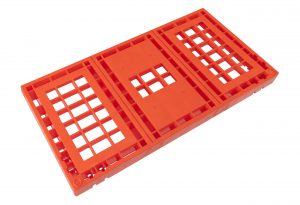 OK then, so why the half panel?
G&M Safe Deck Ltd care a great deal about our customers and the support we provide them. Consequently we listen to what our customers want. We were asked by our customers for a Safe Deck half panel they could purchase as a separate item as and when they needed them. As a result of this we have gone into R&D and developed a half panel. The Safe Deck half panel has been tested by a UKAS accredited test centre. Consequently we have testing data which proves the Safe Deck half panel has the same loading capability and characteristics as the standard full size panel.
When is the half panel available?
Production is about to start on the half panel with the first production runs expected to be complete by the end of summer. We have orders for this new product, we are expecting the first batches of stock to sell out quickly. So don't wait put in your orders now to avoid disappointment.
For more information, hire, sales or training please contact us.