News
Safety Decking
G&M Safe deck business opportunities have never been greater. house builders are moving away from bean bags and traditional bird cage scaffolds. As a result there is a gap that needs to be filled. So, why not fill it? Invest in a G&M Safe Deck system and your future business.
If you are a scaffolding contractor working within the house building sector, an exciting new business opportunity exist for you. Amongst the major house builders G&M Safe Deck is a preferred system and is a standard solution for safe working & access at height. With more new sites opening up in the Midlands, Cambridgeshire, and South Wales the need for local G&M Safe Deck installers is growing. Consequently the opportunity for new business has never been greater.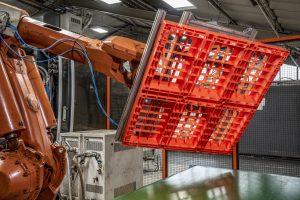 Why should I invest in G&M Safe Deck?
G&M Safe Deck has been rigorously tested. We have the necessary testing data to back our claims. Consequently we can ensure you the system is robust and can stand up to many years of use in site conditions day in day out. We are the only manufacturer of plastic decking that has tested panels that are over 9 years old. As a result we can prove older panels perform as well as a brand new one.
G&M Safe Deck is the only available crash decking system that you can build a scaffold through. This unique feature of the Safe Deck panel enable you to leave the system in place. So when the need arises for a party wall scaffold you can just build it through the deck. Consequently the workspace remains safe and there is no need to strip out the decking and re-install following a scaffold install. Consequently principal contractors can see the benefits of the G&M Safe Deck system over other similar systems.
There is also no need to prop the floors following an G&M Safe Deck install as the system is lightweight. The panel is the heaviest part and is just over 10kg. Therefore considerable time and cost can be saved by using our system.
The team at G&M Safe Deck / Safety Netting Ltd have many years of experience in the Temporary Safety Systems industry. Consequently we can provide you with the right start when investing in one of our systems. Our FASET trainer literally wrote the training course, so be rest assured we can support you all the way. Our sales manager is also an industry expert and had over 16 years of experience in the industry so can advise you on the options available from hire to sale and training.
Do I need training?
Yes training is required. We can provide CSCS carded training through our FASET Training centre. Consequently there is no need to train your scaffolders! Save your CISRS card holders for the façade scaffolding and train their labourers. This way your scaffolders can install the façade scaffold whilst the labourers install the decking. As a result everybody is earning you money!
Call us to find out more 📲 01606 834630.