Free Standing Crash Decking
News
Safety Decking
After 2 years of development we are proud to announce a new innovation. A free standing crash deck.
Free Standing Crash Deck – Why?
In 2018 and 2019 we exhibited the Safe Deck system at the safety and health expo. We received a lot of positive feedback from the visitors to the show. In the main visitors to our stand were impressed with the G&M Safe Deck system and commented how much more versatile it would be if it was freestanding. As a result of this feedback, we went into R&D and started the process of designing a component that would enable the safe deck to free stand. After several prototypes and some small modifications to existing components we are successful.
The new component fits onto either end of a leg tube, this makes a brace. The brace connects the base plate to the head plate across 2 panels. Consequently, turning a square into 2 triangles. This works because triangles are the strongest shape and are rigid, meaning there is no need for a supporting structure to contain the deck. With a completely free standing platform edge protection would need to be incorporated to enable safe access.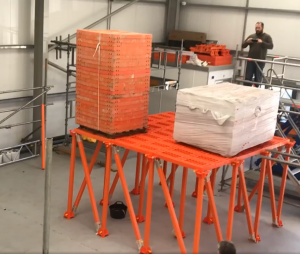 FREE STANDING CRASH DECK – BENEFITS
No need for a structure to contain the safe deck
Build your structure around the deck
Tube & fit Edge Protection easily fitted
Standalone working platform
Elevated temporary walkways
Temporary access platforms for wagon loading and off loading.
Event staging
Void infill
Lightweight
External or Internal access
Non conductive for use in rail or utilities
Non-slip surface
Loadable to 2kN/m2
Resistant to chemicals and UV
Tested by a UKAS accredited test centre
The only free standing plastic system
G&M Safe Deck is the only plastic freestanding system currently available anywhere in the UK. Consequently, we can provide a deck that a structure can be built around. As a result, the risk of internal falls is eliminated at the start. So everybody has a safe area to work in.
For more information, a quote, hire or sales. Contact us.